In the past, Nan was a city with a large territory. Nan's population consists of the Muang people or Tai Yuan, a people called Lao Poung Dum because the men will tattoo their designs with black ink from their stomachs to their thighs. For women, the dress will wear a sarong consisting of a narrow front cloth sewn together into a bag. Overall, it looks like a pattern throughout the body, almost covering the feet. Wear a long-sleeved shirt with stripes across the end of the sleeve.

Around the beginning of the 25th Buddhist century, the dress of the Nan people It clearly appears in the murals at Wat Phumin, Mueang Nan District, Nan Province. can be lifted or embroidered into eaves or dyed in any way Instead, it maintains a rectangular area that can be stitched together in any manner.

1. Shin Chiang Saen It is a folk skirt used to wear in daily life of Nan people. The name of this type of resin reflects its origin as a traditional Thai Yuan Chiang Saen people from the past. It is a cotton sarong with 2 stitching patterns. The main color is dark red or indigo. The band pattern is black, indigo or white weaved with conventional techniques. The structure of the cross pattern on the skirt is arranged at a certain distance. Consists of 1 row of large stripes alternating with 3 rows of small stripes throughout the skirt. In the large stripes, there are 5 rows of small stripes as components.
This small stripe is commonly used as a line between white and indigo. Which is known as "spinning the trigger" or using a thread to tie the knot, known as "Kan Knot", is tied in knots. This makes this stripe pattern white with dots. Helps highlight the horizontal stripes to stand out against the main color.
The last row of big stripes before reaching the skirt is decorated with a special spinning technique or a knot. The bottom is a continuous weaving skirt, popular in black and red. The head of the skirt is connected with a red cloth.
2. Sin Man is a unique traditional Sin of Nan city. It is a sarong pattern with 2 seams stitched, woven with cotton blended with silk and is popularly woven with pearl pattern (Khit) with metal fibers (silver silk, silk kham). interspersed with the ground color with an uneven distance arrangement but has a definite structure The skirt body is woven continuously with the skirt foot sewn together with the head skirt with red background cloth.

The main caste of Sin Man is purple or blue. The upper part of the skirt has alternating colors such as purple, fuchsia, black, and indigo, which are popular colors. Group 3 – 4 rows, which commonly use metal fibers weaving pearl (Khit) to make it look shiny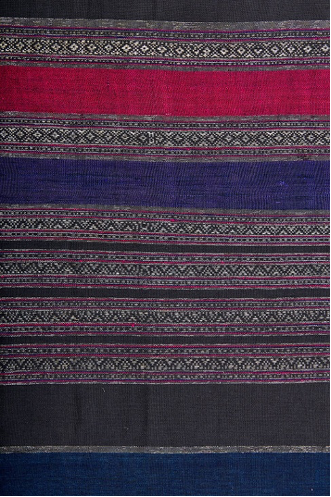 3. Sin Pong is a skirt with 2 stitched cross stitch patterns. The cross pattern is woven using the Khit technique. (Which in Nan people call this kind of technique as picking pearls, picking pearls, or picking flowers.) There are both weaved with pure cotton, silky cotton, and silver silk. The structure of Sin Pong in the past could be divided into 4 large types, namely

1. Sin to prevent strabismus
2. Sin to protect the eyes, tweezers
3. Sin Pong Kheb Mai Kham
4. Sin Peng Kan

4. Sinkan is a skirt that is outstanding with the Mud Gan pattern technique or Mudmee line weft. It is a sin with 2 stitched cross stitch patterns found in Tai Lue weaving culture. Tha Wang Pha district Chiang Klang District and Pua District have both Mud Kan Fai and Mud Kan Mai. The popular colors are purple, indigo, fuchsia, and green. Tha Wang Pha district Sin tied with silk, the warp is cotton. and long-strand silk skirts found in Pua district and Chiang Klang District This Sin Kan is called Sin Mad Kan, Sin Khad Kan or Sin Kha. The structure of Sin Kan can be divided into 3 sub-categories as follows

1. Sin Peng Kan
2. Sin Mankan
3. All Singan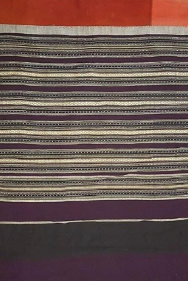 5.Sin Teen Jok The structure of this type of sarong It consists of 3 parts: Hua Sin, Sin Sin and Foot Sin sewn together. Hua Sin is a piece of red cloth, or 2 pieces, red and white. The skirt is a cross stitch pattern with 2 stitches that are standard. Use the same skirt as the skirt It is popularly woven with metal fibers, so it is called Sin Mai Kham or Sin Kham Kob As for the feet, it is a single-stitched Jok pattern. The ground cloth is half black and half red. The pattern will be printed only on the black part.
The Jok pattern is the standard Tai Yuan pattern, consisting of the main pattern in 1 row of large patterns in the form of rhombuses. called lantern pattern and has 2-3 rows of combination patterns The foot jok found in Nan is quite diverse. There are both woven with cotton. Cotton blended with silk and popularly woven with metal fibers (silver silk, silk kham)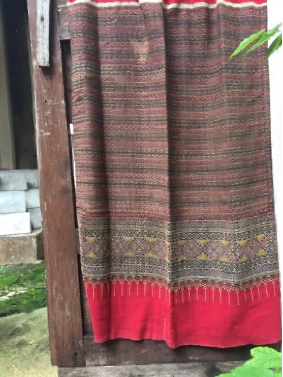 Evidence of ancient Teen Jok skirts in Nan Province Found in every district, scattered everywhere, but there are two main sources found

1. Sin Teen Chok in the area of Mueang District There are both bosses in the house. and the wealthy group Which is popularly woven with silk and metal fibers (Silver shells, gold shells), patterns emphasizing on exquisite craftsmanship. The source of Teen Jok weaving in Mueang District in the past was Ban Tha Chang. and Ban Nam Kian

2. Teen Jok skirts in Wiang Sa and Na Noi districts, both districts, are the source of ancient Teen Jok skirts. Especially in Ban Nam Pu group, Wiang Sa district, which is a community with Lao ancestry and used to raise silkworms in the past. Teen Jok cloth found in these 2 districts has a variety of designs, both woven with fibers.